Custom Shower Tile
Biviano Carpet One Floor & Home is not just your local source for flooring, but we also are your local source for home design services. One of our favorite and most versatile products is tile. Tile is durable, comes in many different styles, and can be applied in several different places around your home. You spend a lot of time in your bathroom whether you realize it or not. One trend that seems to be sticking around for a while is large custom tiles showers. There are several reasons why you should consider a custom tiles shower in your home.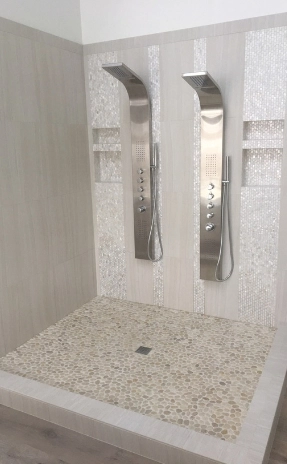 Custom Tiled Shower Benefits
No restrictions to size or shape. Our custom tiled showers are designed to fit your unique needs and the needs of your home. If you have a bathroom with unique measurements, that is no problem. Tiles are available in a wide range of sizes, shapes, colors, and textures which allow you to be creative with your design.

You want your bathroom to be a comfortable, spa-like retreat in your home. Choose tile to create a design you are proud to show off. Properly installed tiles can create a masterpiece in your bathroom. Choose from elegant styles, or even trendy styles. Regardless of your personal taste, we can help you create a beautiful custom tiled shower.

Bathrooms require waterproof materials and tile is perfect for your shower's walls and floor area. Backsplash tiles are durable, stain and moisture resistant, easy to clean, and can also come in options with non-slip surfaces. And for installation, we use epoxy grout for stain, mold, and mildew resistance.

In addition to providing you with a space to unwind, a custom tiled shower will help to increase your home's value. A custom tiled shower can cost about the same as a fiberglass or acrylic solutions when you consider tile's countless design options and greater longevity.

There are a lot of benefits and options with tile. If you are ready to update your bathroom shower, it's our job to help you choose the perfect tile and perfect style to reflect your wants and your home décor. We suggest you begin your building or remodeling project by finding design inspiration.